It's that time of year... Cookie Monsters everywhere are baking up a storm, filling pretty tins with delectables, and delivering them near and far. This year, I tested a few new recipes and found some real winners, including getting my French macaron game on again. I hadn't tackled that fussy little task since pastry school and was worried I'd forgotten the how-to, but it all came back to me, and now I'm having a hey-day with them. A macaron obsession, if you will, thinking about all the unending possibilities of flavor combinations! Here are some solid staples you might want to try in these last days of baking before Christmas...
Fine Cooking's
Orange Butter Cookies with Grand Marnier Glaze
: Soft, buttery orangey cookie with a tasty even-orangey-er glaze! You can substitute Triple Sec for Grand Mariner to cut costs. The flavor effect is about the same. The butter cookie recipe is also a great basic roll-out recipe for any other flavoring, including lemon or lime. The use of yolks instead of the whole egg give the dough a nice, pliable feel and a golden color.
Chocolate Caramel Bars from Martha Stewart
: If you're not planning to transport them elsewhere for presentation, follow the recipe and make them in bar format. Use a hot, wet knife to make clean cuts, and definitely make sure you leave extra parchment hanging over the pan's edges in order to pull it out of the pan and lay it flat on your cutting board. However, if you do want a neater, cleaner presentation, this filling works great in small tart shells or between two butter cookies. You could use the Fine Cooking recipe above, but leave out all the orange flavoring (or keep it, if you go for that chocolate-orange zest appeal!). One note of caution though... Martha's editors fail to tell you how to caramelize sugar
for real
. The extra water in this recipe wreaks significant havoc on the caramelizing process, I must say. This
online tutorial on caramelizing sugar without water
is excellent and will give you the confidence to make caramel any ol' time!
Nielsen-Massey's Chocolate Chip Cookies
: This recipe is absolute perfection time and time again. It doesn't matter the mixer, the oven, the altitude, the humidity, whatever... They are perfectly soft and chewy in the center and crispy around the outside. I actually leave out the cream of tartar.
This description
gives you the reasons for cream of tartar in recipes, but quite honestly, I don't know the purpose of it in this one, as it already contains baking powder, which is a sufficient enough form of acid for baking cookies. Nonetheless, people will devour these and may be clamoring for more, so it's a good thing the initial recipe makes 4 dozen!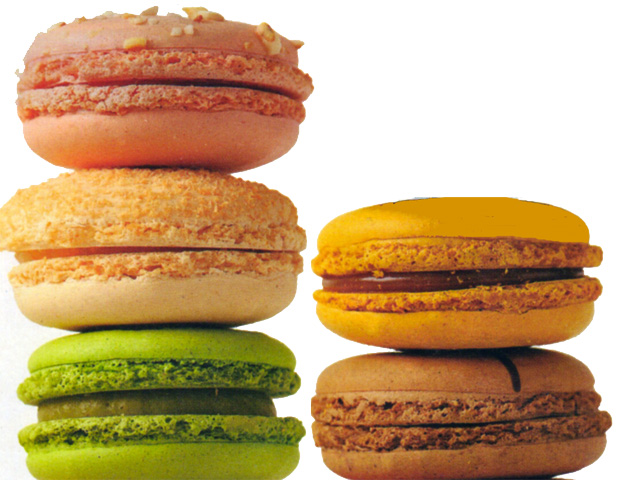 French Macarons, also from Martha
: Exceptionally fussy if you don't have a good flour sifter (which I don't), and are forced to use a sieve, (which I am!), but well worth the effort in the end. There is definitely a macaron craze going on in this dessert-lovin' nation of ours right now, right down to
entire bakeshops
opening up simply to sell macarons. I was out of practice when I tackled these this week, but they came out totally perfect using Martha's recipe. The variations this recipe includes are also nice, especially the pistachio. Make sure you purchase ready-made almond flour though, and if you decide to grind your own, don't use
blanched silvered
almonds. Something about their initial structure does not make a true finely ground flour. Somewhere on Martha's site, I read that if you grind your own, you should use
blanched sliced
almonds. Considering I have a caveperson's sifter (don't ask; totally useless gadget in my kitchen, start to finish) and otherwise have to use a small sieve, I really couldn't fathom adding that extra step for myself, so I purchased almond flour from Whole Foods (
Bob's Red Mill brand
) for $12.99/lb, which is rather steep. I later found it at
Nuts Online
in much cheaper 1-lb and 5-lb packages. A little goes a long way though, as you can get about 2 dozen macarons out of less than a cup of almond flour. All that said though, what is really at stake with making macarons is your technique. Follow this recipe carefully, and you'll do just fine.
I Love Macarons
, a cute little primer on this ever-precious treat, also details what can go wrong and why, lots and lots of flavor combinations, and some great recipes for fillings.
The
Essential Chewy Sugar Cookie
from my good friend HD: You'll want to eat five in one sitting, I'm sure of it! These are so perfect, so chewy, so buttery, not too sugary, and just an all-around easy-peasy recipe to make, there's no reason to not do this one this year! You'll note in the recipe that it does not use the standard creaming method for making cookies but asks for more of a dump-it-all-in-and-finish-with-flour format. It works though, so give it a whirl. My fifth-graders even made them at the youth center where I teach, and everyone in the kitchen was clamoring for a few. Bake some tonight--it's the perfect lunchbox treat for this last week before the holiday rush!
Essential Chewy Sugar Cookie
2 teaspoons vanilla extract
1/4 teaspoon nutmeg or lemon oil (optional)
Preheat oven to 375°F degrees. Line baking sheets with Silpat or parchment paper.
In a large mixing bowl, beat together the butter, granulated and brown sugars, corn syrup, vanilla, nutmeg, baking powder, baking soda, salt, and egg. Stir in the flour.
Place the course sugar in a shallow dish. Drop the dough by tablespoonful into the sugar, rolling the balls to coat them. Place on prepared baking sheets and bake for 10 minutes, or until the edges are just barely beginning to brown (Note: They will look soft; if you bake these cookies too long, they'll be crunchy and not chewy.)
Remove them from the oven and cool on the baking sheet for 5 minutes, then transfer them to a rack to cool completely. Makes 3 dozen.